Blondie
es un grupo neoyorquino de new wave creado en la Gran Manzana a mediados de los años 70', liderado por
Deborah Harry
(nacida el 1 de julio de 1945 en Miami, estado americano de Florida), antigua cantante del grupo
The Stilettos
, formación en la que se encontraban también el guitarrista
Chris Stein
, el bajista
Fred Smith
y el baterista
Bill O'Connor
. Este cuarteto conformó los primeros componentes del grupo
Blondie
, apelativo derivado de un piropo que solía recibir Debbie cuando paseaba por las calles de Nueva York.
A los pocos meses de andadura se produjeron importantes variaciones en el grupo, Smith se unió a Television y abandonó la formación, al igual que el baterista O'Connor.
Sus reemplazos serían el bajista
Gary Valentine
y el baterista
Clement Burke
, a los que se les añadió como nuevo miembro el teclista
James Destri.
En 1976 firmaron con Private Stock Records y publicaron su primer Lp titulado "Blondie" (1976).
Tras este disco el bajista
Valentine sería sustituido por
Frank Infante
, conformando finalmente el quinteto más reconocido de Blondie, quienes se mudaron a Chrysalis Records, compañía discográfica que reeditó su disco debut, marcado por un atractivo sonido propio de la new wave americana pero con reminiscencias de los girl groups de los 60.
El disco contenía temas conocidos de la banda como "X Offender" (su primer sencillo) o "In the flesh".
Disco 1: Greatest Hits Deluxe Redux
"Heart of Glass"

"Dreaming"

"The Tide Is High"
"Maria"
"Sunday Girl"
"Hanging on the Telephone"
"Rapture"

"One Way or Another"

"Call Me"

"Atomic"

"Rip Her to Shreds"
Disco 2: Ghosts of Download
"Sugar on the Side"
"Rave"
"A Rose by Any Name"
"Winter"

"I Want to Drag You Around"
"I Screwed Up"
"Relax"
"Take Me in the Night"
"Make a Way"

"Mile High"

"Euphoria"

"Take It Back"

"Backroom"
D-Day
What I Heard
Mother
The End, the End
Girlie Girlie
Love Doesn't Frighten Me
Words in My Mouth
Sunday Smile
Wipe Off My Sweat
Le Bleu
China Shoes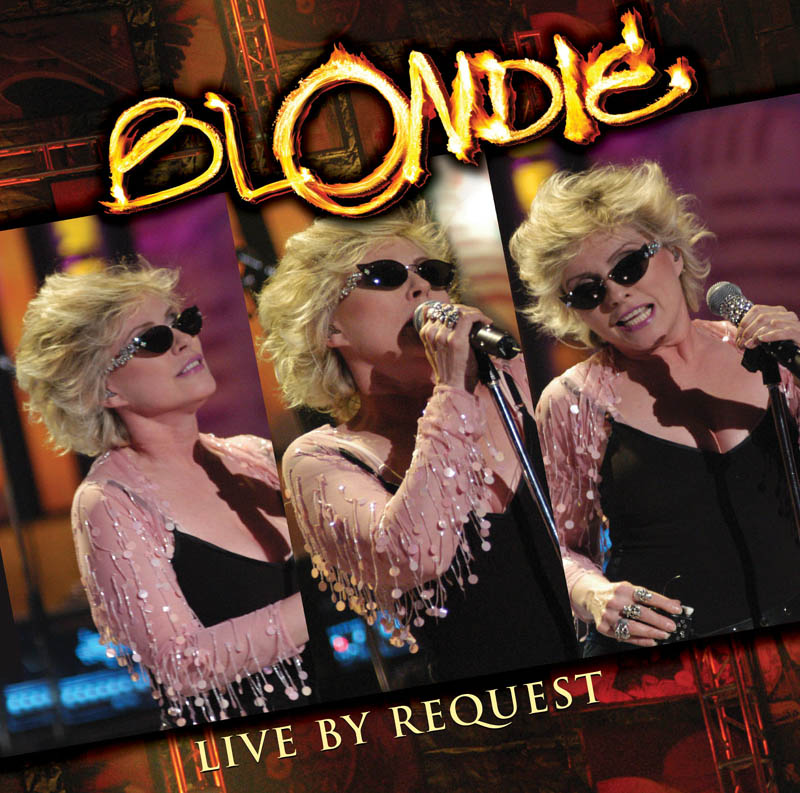 Dreaming
Hanging On The Telephone
Accidents Never Happen
Tide Is High
Good Boys
Rip Her To Shreds
One Way Or Another
Rapture
X Offender
Call Me
Union City Blue
Heart Of Glass
The Dream's Lost On Me
(I'm Always Touched By Your) Presence Dear
Álbum: The Curse of Blondie
Shakedown
Good Boys
Undone
Golden Rod
Rules for Living
Background Melody (The Only One)
Magic (Asadoya Yunta)
End to End
Hello Joe
The Tingler
Last One in the World
Diamond Bridge
Desire Brings Me Back
Songs of Love
Good Boys (Giorgio Moroder Single mix)
Screaming Skin
Forgive and Forget
Maria
No Exit
Double Take
Nothing Is Real but the Girl
Boom Boom in the Zoom Zoom Room
Night Wind Sent
Under the Gun
Out in the Streets
Happy Dog
The Dream's Lost on Me
Divine
Dig Up the Conjo
Orchid Club
Island of Lost Souls
Dragonfly
For Your Eyes Only
The Beast
War Child
Little Caesar
Danceway
(Can I) Find the Right Words (To Say)
English Boys
The Hunter Gets Captured by the Game
Europa
Live It Up
Here's Looking at You
The Tide Is High
Angels on the Balcony
Go Through It
Do the Dark
Rapture
Faces
T-Birds
Walk Like Me
Follow Me
Dreaming
The Hardest Part
Union City Blue
Shayla
Eat to the Beat
Accidents Never Happen
Heart of Glass
Die Young Stay Pretty
Slow Motion
Atomic
Sound-A-Sleep
Victor
Living in the Real World
Sunday Girl
Hanging on the Telephone
One Way or Another
Picture This
Fade Away and Radiate
Pretty Baby
I Know but I Don't Know
11:59
Will Anything Happen?
Sunday Girl
Heart of Glass
I'm Gonna Love You Too
Just Go Away
Fan Mail
Denis
Bermuda Triangle Blues (Flight 45)
Youth Nabbed as Sniper
Contact in Red Square
(I'm Always Touched) By Your Presence, Dear
I'm on E
I Didn't Have the Nerve to Say No
Love at the Pier
No Imagination
Kidnapper
Detroit 442
Cautious Lip
X Offender
Little Girl Lies
In the Flesh
Look Good in Blue
In the Sun
A Shark in Jets Clothing
Man Overboard
Rip Her to Shreds
Rifle Range
Kung Fu Girls
The Attack of the Giant Ants
Rapture
Island of lost souls
Danceway
The tide is high
Heart of glass
Hanging on the telephone
Dreaming
One way dr another
War child
Start me up
Call me
Fuente/s: alohacriticon.com / jukebox.es / Wikipedia.org